Dr. Jerry P. Abraham, a steadfast advocate for equitable access to public health and healthcare delivery, will be installed as the 152nd President of the Los Angeles County Medical Association (LACMA) on August 18, 2023, at The Langham Huntington in Pasadena. Dr. Abraham's appointment marks a significant milestone in his exceptional career, further solidifying his commitment to serving the people of Los Angeles County and advancing health justice for all. He will be the first FQHC-employed physician as President of the organization.
Throughout his tenure as Chief Vaccinologist of the COVID-19 Vaccine Equity Initiative of KEDREN and Director of the CDU-KEDREN Mobile Street Medicine program, Dr. Abraham has tirelessly fought for the rights of minoritized and marginalized communities. His dedication to African-American, Latinx, and LGBTQIA+ patients' access to safe, reliable, and nondiscriminatory quality care has been unwavering. Driven by social activism and medical advocacy, he has consistently prioritized the needs of the hard-to-reach, hardly-reached, often-forgotten, and left-behind individuals who face systemic barriers within the healthcare system.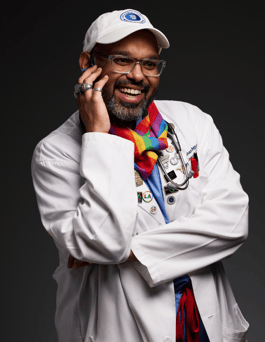 Notably, Dr. Abraham's leadership during the COVID-19 pandemic garnered global recognition. He spearheaded a groundbreaking vaccine equity initiative that received numerous awards and commendations, including acclaim from Governor Gavin Newsom. By creating programs specifically tailored to address the needs and social determinants of underrepresented and underserved communities, Dr. Abraham's initiatives have brought reliable transportation for medical care, assistance for people experiencing homelessness (PEH) and housing and food insecurity, and resources for those living with HIV (PLWH). In addition, he has provided access to crucial COVID-19 resources, including testing, vaccines, therapeutics, and patient education on vaccine safety and efficacy. Through these efforts, Dr. Abraham and his team successfully vaccinated over 300,000 individuals in South Los Angeles, tested hundreds of thousands more, distributed thousands of COVID-19 therapeutics, and significantly reduced COVID-19 infections, hospitalizations, and fatalities.
Driven by his passion for health equity and racial and medical justice, Dr. Abraham has continuously challenged the traditional boundaries of medical care. His dedication to democratizing and ubiquitizing health with mobile street medicine beyond the conventional confines of hospitals and clinics has revolutionized healthcare delivery. Grounded in his profound love for the community and the people of Los Angeles, Dr. Abraham has exemplified a career and life-calling dedicated to serving his neighbors.

As President of the Los Angeles County Medical Association, Dr. Abraham will continue to drive health reform in California, working tirelessly to achieve the quintuple aim: accessible, affordable, high-quality, whole-person-centered care. His visionary approach aims to preserve the joy of practice for health professionals while delivering equitable and just care for all individuals.
Dr. Abraham is a distinguished board-certified Family Physician, Epidemiologist, and Medical Quality Specialist. He also holds notable positions as Trustee of the California Medical Association (CMA), Councilor of the American Medical Association (AMA), and Delegate to the United States Pharmacopeia. His impressive credentials include a Master of Public Health from Emory University, a post-graduate Fellowship in Global Injury Epidemiology from the Harvard School of Public Health, and a Medical Doctorate from the University of Texas at San Antonio. Dr. Abraham completed his Family & Community Medicine Residency training at the USC Keck School of Medicine in Los Angeles, where he also undertook a Faculty Development, Medical Quality, and Health Policy Fellowship. He holds a joint appointment in Family & Community Medicine and Psychiatry at Charles Drew University (CDU), a Historically Black Medical School (HBMS), and serves on the Faculty of the UCLA David Geffen School of Medicine Department of Family Medicine.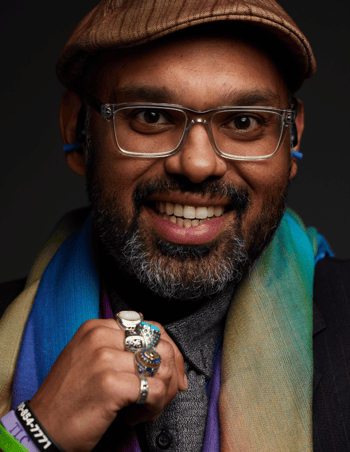 A renowned speaker on Vaccine Equity, Dr. Abraham has presented before esteemed organizations such as the National Academy of Medicine (NAM) and has testified before the US Senate and Congress on the COVID-19 Pandemic. He currently serves as a Fellow of the American Medical Association (AMA) in Medical Justice & Advocacy (MJAF), a joint program with the Morehouse School of Medicine (MSM) Satcher Health Leadership Institute (SHLI). Most recently, Dr. Abraham served as a Climate Health Organizing Fellow (CHOF) for the Center for Health Equity, Education, & Advocacy (CHEEA) of the Cambridge Health Alliance (CHA), a Harvard Teaching Hospital.
Dr. Abraham was recently appointed to the Hearing Board of the Air Quality Management District (AQMD) for the South Coast as the physician member. He also serves as a Delegate to the United States Pharmacopeia, the LA County Ending the HIV Epidemic Steering Committee, and Project TENDR (Targeting Environmental Neurodevelopment Risks). Dr. Abraham also serves on the Board of Directors of the: Gay Men's Chorus of Los Angeles, Gay & Lesbian Medical Association, The National LGBTQ Task Force, Physician Aid Association, Urban Voices Project, and the Charles R. Drew Medical Society.
Dr. Jerry P. Abraham's presidency of the Los Angeles County Medical Association heralds a new era of healthcare equity, where the needs of every individual are prioritized, and access to high-quality care is universal. His indomitable spirit and unwavering dedication to health justice will undoubtedly make a lasting impact on the lives of countless individuals throughout Los Angeles County.