The Leapfrog Group, an independent national nonprofit driving a movement for patient safety, today released its fall 2023 Hospital Safety Grades, assigning a letter grade to nearly 3,000 general hospitals on how well they prevent medical errors, accidents and infections. The latest grades show hospitals reducing health care-acquired infections (HAIs) post-pandemic, after significant increases in infection rates during the COVID-19 pandemic. This cycle, nearly 30% of hospitals earned an "A," 24% earned a "B," 39% earned a "C," 7% earned a "D," and less than 1% earned an "F."
Utah is the state with the highest percentage of "A" hospitals in the country this fall. After Utah, the top ten states for "A" hospitals are: Virginia, North Carolina, Pennsylvania, South Carolina, Connecticut, Montana, Tennessee, Florida and Texas. States with the least favorable performance are Vermont, Wyoming, Delaware, Washington, DC, and North Dakota, where no hospitals earned an "A."
"Now that we have pre- and post-pandemic data for patient safety measures, we are encouraged by the improvement in infections and applaud hospitals for reversing the disturbing infection spike we saw during the pandemic," said Leah Binder, president and CEO of The Leapfrog Group. "However, there's still more work to be done. It's deeply concerning that patient reports about their health care experience continues to decline."
The new grades are the first to reflect hospital performance post-pandemic. Nationally, hospitals significantly reduced three HAIs—Methicillin-resistant Staphylococcus aureus (MRSA), central line-associated bloodstream infections (CLABSI) and catheter-associated urinary tract infections (CAUTI)—after CLABSI, MRSA and CAUTI reached a 5-year high during the pandemic. In the fall 2022 Safety Grade cycle, hospitals experienced a 35% increase in the average standard infection ratios (SIRs) of CLABSI and MRSA from pre-pandemic levels as well as a 20% increase in CAUTI.
The latest data shows that over 85% of hospitals have improved performance on at least one of the three dangerous infections the Hospital Safety Grade accounts for. That includes:
19% of hospitals have improved in all three infection measures,

66% of hospitals have improved at least one infection measure, and

16% of hospitals have continued to worsen or made no improvement.
HAI SIRs National Average Per Hospital Safety Grade Cycle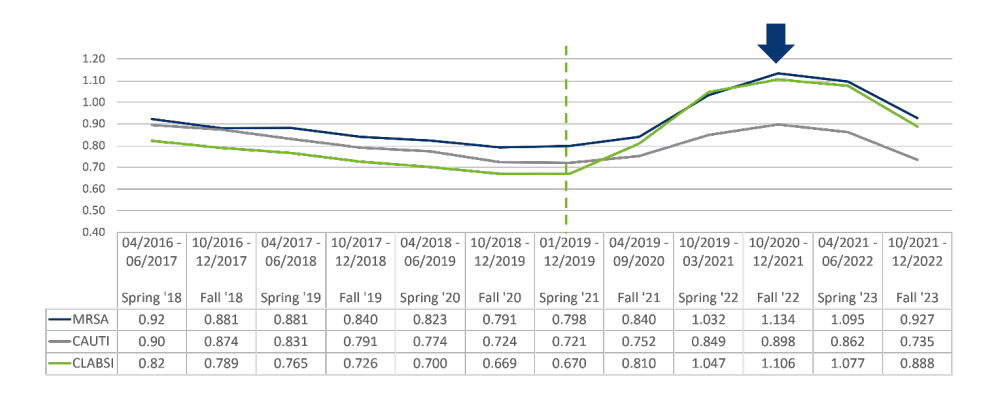 The Leapfrog Hospital Safety Grade also includes five patient experience measures that evidence suggests are closely associated with patient safety issues. The scores for the measures are calculated using patient responses to a national and standardized patient survey following a hospital visit. Patients are asked to rate their experience of nurse communication, doctor communication, staff responsiveness, communication about medicine, and discharge information. Nationally, patient experience scores worsened for the second year in a row, and all states experienced a significant decline in reported patient experience from the fall 2021 to the fall 2023 Safety Grade.
Patient experience reports show the most significant declines in the categories of "communication about medicines" and "responsiveness of hospital staff," both of which correlate with preventable medical errors according to recent studies, Binder reported.
States with the Most Significant Declines in Five Categories of Reported Patient Experience Fall 2023 Leapfrog Hospital Safety Grade
Category of Patient-Related Experience
Nurse Communication
Doctor Communication
Staff Responsiveness
Communication about Medicines
Discharge Information
States with the most significant declines

New Mexico

Florida

New York

New Hampshire

Arizona

New Mexico

Florida

Hawaii

West Virginia

California

New Hampshire

Connecticut

Arizona

New York

Florida

Florida

Nevada

New Mexico

Arizona

Alabama

New Mexico

Florida

Nevada

Arizona

New Hampshire
"In talking with hospital leaders, we believe staffing shortages are one key reason for the continued decline," said Binder. "Many hospitals are innovating to help make patient experience better, which is critical because these results are disheartening and unsustainable."
The Leapfrog Hospital Safety Grade is the only hospital ratings program based exclusively on hospital prevention of medical errors and harms to patients. It is fully transparent and free to the public, and grades are updated biannually in the fall and in the spring. For more information about the Hospital Safety Grade, including details on individual hospital grades and state rankings, please visit HospitalSafetyGrade.org.