On Friday, CMS released information on a temporary Exceptional Circumstances Special Enrollment Period from March 31 through July 31.
CMS said that marketplaces using the federal platform will provide additional flexibility for eligible consumers to enroll in coverage during and immediately following the end of the Medicaid continuous enrollment condition unwinding period. This starts on April 1 as States begin redeterminations.
WHY THIS MATTERS
Up to 18 million people are projected to lose Medicaid coverage as the continuous enrollment requirement put in place under the public health emergency ends. The Families First Coronavirus Response Act prevented state Medicaid agencies from disenrolling people during the PHE.
The omnibus spending package that passed at the end of 2022 gave states a heads-upon Medicaid coverage. Under the bill, states can begin processing Medicaid redeterminations on April 1, whether the PHE is in place or not.
This previously left the question of whether disenrollment from Medicaid met the conditions of a "qualifying event" to enroll in health insurance under the ACA without waiting for open enrollment to begin in November. CMS's guidance on Friday aims to close any gaps in coverage for a smooth transition from one type of health insurance to another.
In the letter, CMS said it is providing additional flexibilities for states and marketplaces during the unwinding period to help beneficiaries maintain continuity of coverage as they transition off Medicaid or CHIP into a marketplace-qualified health plan.
The current public health emergency ends on April 11. If the PHE is not continued, as is expected, providers will get their promised 60 days' notice on February 10.
THE LARGER TREND
On December 19, 2022, 25 governors sent a letter to President Biden asking him to end the public health emergency in April, because a continuation of the PHE would negatively affect states financially by having to increase their non-federal matching funds to cover the Medicaid population.
CMS on Friday released a state health official letter outlining new requirements in the Consolidated Appropriations Act, 2023, that impact state activities for Medicaid and CHIP regarding the Medicaid continuous enrollment condition.
The SHO letter also addresses changes to the other conditions states must meet in order to receive increased federal medical assistance percentage and changes to reporting requirements and new enforcement authority for CMS to ensure state compliance.
---
Los Angeles County Fentanyl Report | In 2021, methamphetamine and fentanyl were the most common drug types listed as a cause of death in accidental drug overdose deaths in Los Angeles County (LAC), accounting for 56% and 55%, respectively, of all alcohol and other drug overdose deaths. While methamphetamine is a significant contributor to accidental drug overdoses, there are also unique risks associated with one-time fentanyl exposure. Interventions such as naloxone are available to address fentanyl overdoses that do not exist for methamphetamine. This explains the unique focus on and need to understand the fentanyl crisis amid broader drug overdose concerns to inform activities to reduce the impact of fentanyl overdoses in our communities.
This data report presents the number and rate of fentanyl overdose deaths, emergency department (ED) visits, and hospitalizations by sociodemographic and geographic groups from 2016 when routine testing for fentanyl began among overdose deaths.
Accidental fentanyl overdose deaths increased 1,280% from 109 in 2016 to 1,504 in 2021. From 2016 to 2020, fentanyl overdose ED visits increased 308% from 133 to 542, and fentanyl overdose hospitalizations increased 98% from 102 to 202 cases.
Adults aged 26-39 years had the highest rates of fentanyl overdose deaths (30.0) and ED visits (13.1) per 100,000 population, while young adults aged 18-25 years had the highest hospitalization rate (4.5) in the most recent available data year.
Males accounted for more fentanyl overdose deaths and had a rate per 100,000 population of 3.9 times that of females (23.4 vs. 6.0) in 2021. Males also accounted for more fentanyl overdose ED visits and hospitalizations and had rates per 100,000 population that were 3.3 and 2.3 times, respectively, of those for females (ED visits: 8.2 vs. 2.5; hospitalizations: 2.8 vs. 1.2) in 2020. White residents accounted for the largest number of fentanyl overdose deaths, ED visits, and hospitalizations, followed by Latinx, Black, and Asian residents. However, after adjusting for size differences in population, Black residents had the highest rates per 100,000 population for fentanyl overdose deaths (30.6) and hospitalizations (3.2), and the second highest rate of ED visits (6.7) as compared to White residents (deaths: 22.5, ED visits: 8.6, and hospitalizations: 2.7), and Latinx residents (deaths: 11.1, ED visits: 3.4, and hospitalizations: 1.3), and Asian residents (deaths: 2.0, ED visits: 0.6, and hospitalizations: 0.3) in the most recent data year.
Similarly, more affluent areas had higher numbers of fentanyl overdose deaths than less affluent areas, with nearly half (48%) of fentanyl overdose deaths occurring in the most affluent areas and 8% in the least affluent areas in 2016-2021. However, the rate of fentanyl overdose deaths per 100,000 population in the least affluent areas was more than triple than those of the most affluent areas (38.4 vs. 12.3) of LAC in 2021.
What should LACMA do on this topic? Invite public health experts to share the report and what physicians can do? Let me know.
---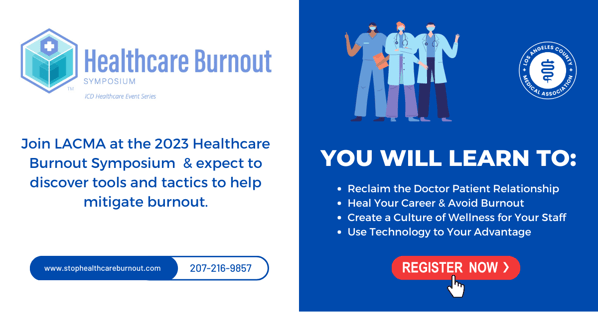 Burnout Symposium Registrations Top 200 | Three weeks to go until the historic burnout symposium featuring 40 speakers and breakout sessions, HHS Secretary Xavier Becerra and California Surgeon General Dr. Diana Ramos and a physician-led panel discussion on mass shootings and their impacts on first responders. Space is limited, and rooms are selling out at the UCLA Luskin Conference Center so register today at www.stophealthcareburnout.com.
---
2023 Practice Makeover Initiative
LACMA's Medical Practice Makeover Initiative is more than a slogan. It's a promise to small, independent medical practices that meet certain criteria, that help is on the way. In 2022, a total of 20 practices received $5,000 grants along with robust resources, PPE supplies and a practice assessment. The success of the program in its first year demonstrated the need to extend the Medical Practice Initiative into 2023.
For 2023, a total of $50,000 will be awarded to practices, with 3 winners announced each quarter - 2 new awardees and 1 returning awardee. New awardees will receive $5,000 and past winners who re-apply and win will receive $2,500. The deadline for Quarter 1 is March 3, 2023
---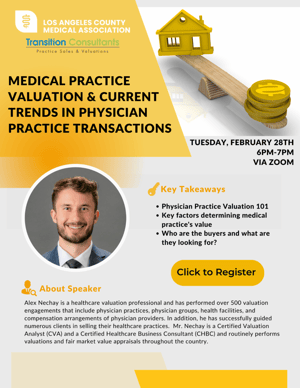 Medical Practice Valuation & Current Trends in Physician Practice Transactions
Join us in this informative webinar alongside one of our newest preferred partners, Transition Consultants. Webinar will concentrate on key factors determining medical practice's value and current trends in physician practice transactions.
Key Takeaways:
Physician Practice Valuation 101
Key factors determining medical practice's value
Who are the buyers and what are they looking for?
If you're looking into retiring soon and selling your practice, or are curious about the value of your practice, then you won't want to miss this!
Dates: Tuesday, February 28, 2023
Location: Zoom
Time: 6:00 PM - 7:00 PM
---
#MondayMessage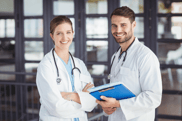 What we fear of doing most is usually what we most need to do.

Gustavo Friederichsen
Chief Executive Officer
Los Angeles County Medical Association
"If it matters to our LACMA members, it matters to me."