Loan Repayment Program Deadline Extended | Physicians for a Healthy California's CalHealthCares Loan Repayment Program has extended the application deadline through Friday, March 17, 2023. Program information and application resources are available at CalHealthCares.org to assist with the application process.
CalHealthCares has approximately $54 million for physicians and $9 million for dentists to fund loan repayments of up to $300,000 in exchange for a five-year commitment to providing care for Medi-Cal patients. Qualifying dentists can also apply for practice support grants in exchange for a 10-year commitment. The program is funded by Proposition 56 (2016) voter-approved tobacco tax revenues.
---
CMA Files Complaint About Anthem's Unlawful Denial of Claims for Emergency Services | CMA has submitted a formal complaint with the California Department of Managed Health Care (DMHC) regarding Anthem Blue Cross' ongoing pattern of denying payment for emergency department services in violation of California law.
Although California law states payment for emergency services may only be denied if a plan determines the services were not performed, Anthem has adopted a policy under which it routinely denies claims that include high-level emergency department evaluation and management (E/M) services. As a result, Anthem is not only refusing payment for the emergency E/M service but also failing to reimburse the remaining uncontested portion of these claims. Anthem is also failing to provide an accurate and clear explanation of the reasons for denial and subjecting physicians to unnecessary and unreasonable requests for patient medical records beyond what is needed to determine payor liability.
Given the dollar value of denied claims and the impact of the denials on physicians' ability to provide emergency care, Anthem's practice may also represent an unjust payment practice by unnecessarily delaying payment for complete and accurate claims.
"Anthem's denials have placed significant undo financial hardship on emergency physicians throughout California who, for the last two years, has served on the front lines caring for COVID-19 patients," wrote CMA CEO Dustin Corcoran in a letter to DMHC. "Anthem cannot be allowed to profit from unpaid emergency services provided to its enrollees. DMHC must take swift action to ensure that Anthem complies with California laws designed to protect health care consumers and providers."
CMA is urging DMHC to formally investigate and take appropriate enforcement action to require Anthem to promptly reimburse physicians for denied emergency room services with interest.
---
LACMA Members Get Exclusive Access to Free Solutions Portal with Dedicated Member Concierge!
The LACMA Solutions Portal is a comprehensive platform designed to offer members of the Los Angeles County Medical Association (LACMA) access to a range of valuable resources and benefits.
Through this portal, physician members can access an exclusive catalog of discounts and offers. This first-of-its-kind member benefit also includes a dedicated Member Concierge service to help members take full advantage of the benefits offered. With the portal, physicians can access discounts on products and services, tax and financial planning advice, and other resources to help them grow their practices and achieve personal and professional goals.
---
Case of the Month: Court Explains 'Implied Malice' in Upholding Physician's Murder Convictions | Explore how a physician's role in the deaths of several patients she treated with anxiety and pain management medications led to her murder conviction. Read more in the following Case of the Month, published by the Cooperative of American Physicians (CAP).
The Court of Appeal has found a substantial basis for a physician's second-degree murder convictions arising out of the doctor's drug prescriptions to three patients. By articulating the "implied malice" required for the convictions, the appellate court explained how circumstantial evidence of the physician's state of mind could be accepted by a jury to convict the physician of murder.
In July 2012, Dr. Tseng was arrested and charged with three counts of second-degree murder in the deaths of patients Vu Nguyen, Steven Ogle, and Joseph Rovero. The convictions involved treatment by Dr. Tseng of three years for Mr. Nguyen, several weeks for Mr. Ogle, and a single visit with Mr. Rovero.
Interested in reading more case studies? Request your free copy of From Exam Room to Courtroom, a publication featuring ten real-life case studies of physicians who have been involved in medical malpractice legal disputes, summarized by CAP's former General Counsel, Gordon Ownby.
As a leading provider of superior medical malpractice coverage in California for more than 40 years, CAP remains committed to providing physicians with secure and affordable protection and relevant practice and risk management resources, like these case studies, to help them run successful practices.
To learn more about becoming a CAP member, please call 800-356-5672 or email MD@CAPphysicians.com.
Request an Instant Quote today to see how much you can save on medical malpractice coverage as a member of CAP.
Medical professional liability coverage is provided to CAP members through the Mutual Protection Trust (MPT), an unincorporated interindemnity arrangement organized under Section 1280.7 of the California Insurance Code.
---
$64M in Educational Debt Relief for Medi-Cal Physicians and Dentists With Calhealthcares | CalHealthCares' fifth application cycle is expected to award $64 million in educational debt relief to approximately 250 physicians and dentists committed to practicing with Medi-Cal communities. CalHealthCares is an important recruitment and retention tool for all modes of practice in underserved communities to ensure quality and equitable access to care.
Physicians for a Healthy California (PHC) requests volunteers from the medical and dental communities to review and score applications. Scorers will review applications online allowing the CalHealthCares advisory council to then make funding recommendations. Training and reference materials are available, and volunteers are asked to sign a conflict-of-interest form prior to scoring for program documentation.
Important dates to consider:
March 15 – virtual training session
March 20 through April 7 – application review period
If you are interested in serving as a CalHealthCares scorer, please email CalHealthCares@phcdocs.org and we will be in touch soon with additional details.
---
Apply Your Voice with #CMAVoices!
When insurance company prior authorization gets between patients and physicians, patients get sicker and health care becomes more expensive.
It doesn't have to work this way.
HOW YOU CAN HELP: Share your unique experience as a patient, physician or health care professional so we can fight back to ensure California policy puts patients first.
If you have waited days or months for an insurance company to approve a treatment prescribed by your doctor, we want to hear from you. If you are a physician frustrated with the administrative headaches and their impact on your patients, we want to know your story.
Share Your Story: There are two ways to share your story:
By the Numbers:
93% of physicians report that prior authorization delays patient care
82% say patients abandon treatment due to authorization struggles
Physicians and their staff spend an average of almost two business days (13 hours) each week completing prior authorization requests
For More Information: For more details about how prior authorization harms patients, see the American Medical Association's survey results.
---

Tax Strategies and Solutions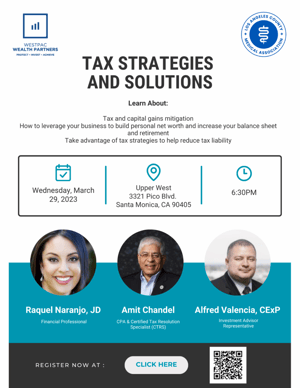 Join us for an educational dinner presentation with WestPac Wealth Partners. Don't miss out on this opportunity to secure your financial future!
Learn About:
Tax and capital gains mitigation
How to leverage your business to build personal net worth and increase your balance sheet and retirement
Take advantage of tax strategies to help reduce tax liability
Speakers:
Raquel Naranjo, JD, Financial Professional
Amit Chandel, CPA & Certified Tax Resolution Specialist (CTRS)
Alfred Valencia, CExP, Investment Advisor Representative
Date: Wednesday, March 29, 2023
Location: Upper West 3321 Pico Blvd. Santa Monica, CA 90405
Time: 6:30 PM
---
The Changing Landscape of Reproductive Health - What Clinicians Need to Know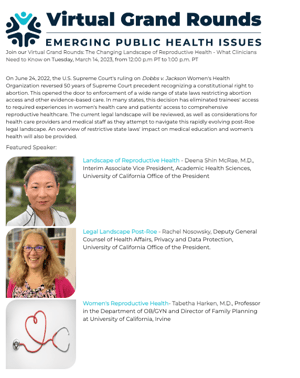 Join CMA's next Virtual Grand Rounds: The Changing Landscape of Reproductive Health - What Clinicians Need to Know on Tuesday, March 14, 2023, from 12:00 p.m PT to 1:00 p.m. PT
As a result of this activity, participants should be able to:
Describe the impact that the U.S. Supreme Court's ruling on Dobbs v. Jackson Women's Health Organization has had on medical education and patient care.
Recognize how the restrictions on women's healthcare laws affect the health and other outcomes of women.
Explain considerations that a healthcare provider should make when working with patients or trainees from both within and outside the state of California, given this rapidly changing legal landscape
Date: Tuesday, March 14, 2023
Location: Virtual
Time: 12:00 PM - 1:00 PM
---
#MondayMessage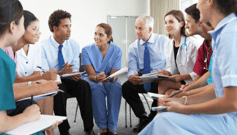 "I am only one; but I am still one. I cannot do everything; but still I can do something. And because I cannot do everything, I will not refuse to do the something that I can do."

Gustavo Friederichsen
Chief Executive Officer
Los Angeles County Medical Association
"If it matters to our LACMA members, it matters to me."