This staffing strategy has permeated hospitals, particularly emergency rooms, that seek to reduce their top expense: physician labor. While diagnosing and treating patients was once their domain, doctors are increasingly being replaced by nurse practitioners and physician assistants, collectively known as "midlevel practitioners," who can perform many of the same duties and generate much of the same revenue for less than half of the pay.
"APP has numerous cost-saving initiatives underway as part of the Company's continual focus on cost optimization," the document says, including a "shift of staffing" between doctors and midlevel practitioners.
In a statement to KHN, American Physician Partners said this strategy is a way to ensure all ERs remain fully staffed, calling it a "blended model" that allows doctors, nurse practitioners, and physician assistants "to provide care to their fullest potential."
The quest to save money results in the treatment meted out by someone with far less training than a physician, leaving patients vulnerable to misdiagnoses, higher medical bills, and inadequate care. And these fears are bolstered by evidence that suggests dropping doctors from ERs may not be good for patients.
A working paper, published in October by the National Bureau of Economic Research analyzed roughly 1.1 million visits to 44 ERs throughout the Veterans Health Administration, where nurse practitioners can treat patients without doctor oversight.
Researchers found that treatment by a nurse practitioner resulted, on average, in a 7% increase in the cost of care and an 11% increase in length of stay, extending patients' time in the ER by minutes for minor visits and hours for longer ones. These gaps widened among patients with more severe diagnoses but could be mitigated by nurse practitioners with more experience.
The study also found that ER patients treated by a nurse practitioner were 20% more likely to be readmitted to the hospital for a preventable reason within 30 days. However, the overall risk of readmission remained minimal.
Private equity companies pool money from wealthy investors to buy their way into various industries, often slashing spending and seeking to flip businesses in three to seven years. While this business model is a proven moneymaker on Wall Street, it raises concerns in health care, where critics worry the pressure to turn big profits will influence life-or-death decisions that were once left solely to medical professionals.
Nearly $1 trillion in private equity funds have gone into almost 8,000 healthcare transactions over the past decade, according to industry tracker PitchBook, including buying into medical staffing companies that many hospitals hire to manage their emergency departments.
Two firms dominate the ER staffing industry: TeamHealth, bought by private equity firm Blackstone in 2016, and Envision Healthcare, bought by KKR in 2018. Trying to undercut these staffing giants is American Physician Partners, a rapidly expanding company that runs ERs in at least 17 states and is 50% owned by private equity firm BBH Capital Partners. LACMA will continue to monitor these and other trends that impact physicians and patient care directly.
---
Welcome LACMA's New Member Relations and Events Coordinator! | For decades, the LACMA Districts, nine scattered across the county, acting as part of social networking opportunities while keeping close ties to physicians in every corner of the 5,000 square miles covering Los Angeles County. It takes coordination, constant communication, and physician engagement to derive activities and strategic actions that impact LACMA's mission, vision, and values. We are happy to announce the hiring of Mariah Carrillo who will serve as the point person for all district activities related to membership growth, satisfaction, and event fundraising. Welcome, Mariah!
---
COVID Treatment Information for Medicare Physicians/Care Teams from CDPH | CDPH would like to provide you with its newest treatment information and resources. The first resource is an announcement about their new Therapeutics Provider Warmline. The free warmline is managed by the University of California, San Francisco (UCSF) National Clinician Consultation Center. It's available Monday through Friday from 6 a.m. to 5 p.m. (Pacific Time).
COVID-19 Therapeutics Warmline Flyer (ca.gov)
The Provider Warmline is proving to be very beneficial to clinicians statewide, and they have gotten very positive feedback about the quality of information callers are receiving from the warmline clinicians.
CDPH offers a COVID-19 Therapeutics Provider Warmline that can connect you immediately with another clinician for a free and confidential consultation on COVID-19 testing and treatment. Call 1-866-268-4322 (1-866-COVID-CA). The warmline is managed by the University of California, San Francisco (UCSF) National Clinician Consultation Center. It's available Monday through Friday from 6 a.m. to 5 p.m. (Pacific Time). You will only be asked for your basic contact and facility information. If you leave a voicemail after hours, your call will be returned the next business day.
The second resource is a COVID-19 therapeutics FAQ guide. This guide is very clear, comprehensive and rich with helpful links. You can find this resource here:
The last resource is a summary of talking points for providers to address the most common misconceptions regarding C-19 therapeutics, including misconceptions about who is "high-risk", potential serious side-effects related to the use of therapeutics, and misconceptions regarding the prevalence and danger of rebound. This easy-to-read document is located here:
Therapeutics Myths and Facts (ca.gov)
---
Medical Practice Makeover: Physician Support | LACMA's Medical Practice Makeover Initiative is more than a slogan. It's a promise to small, independent medical practices that meet certain criteria, that help is on the way. In 2022, a total of 20 practices received $5,000 grants along with robust resources, PPE supplies and a practice assessment. The success of the program in its first year demonstrated the need to extend the Medical Practice Initiative into 2023.
For 2023, a total of $50,000 will be awarded to practices, with 3 winners announced each quarter - 2 new awardees and 1 returning awardee. New awardees will receive $5,000 and past winners who re-apply and win will receive $2,500. The deadline for Quarter 1 is March 3, 2023.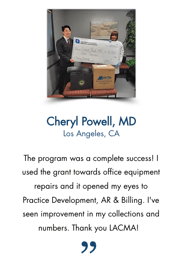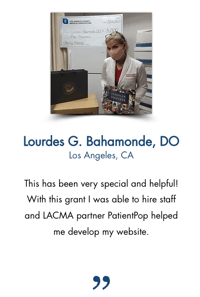 ---
The 152nd Elections | We are holding our 152nd Annual Election this coming June. There are vacancies on the LACMA Board of Directors and the LACMA Delegation to the CMA House of Delegates. Active members of LACMA and CMA have the privilege of voting for their preferred candidates.
To learn more about the open positions, please click below.
The deadline to submit nominations is March 1, 2023.
If you have any questions, please contact Lisa Le at lisa@lacmanet.org.
---

Medical Practice Valuation & Current Trends in Physician Practice Transactions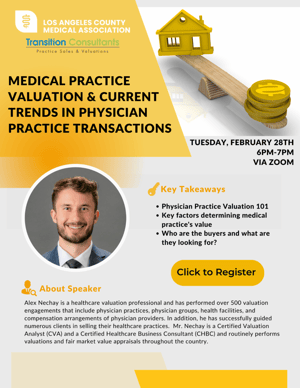 Join us in this informative webinar alongside one of our newest preferred partners, Transition Consultants. Webinar will concentrate on key factors determining medical practice's value and current trends in physician practice transactions.
Key Takeaways:
Physician Practice Valuation 101
Key factors determining medical practice's value
Who are the buyers and what are they looking for?
If you're looking into retiring soon and selling your practice, or are curious about the value of your practice, then you won't want to miss this!
Date: Tuesday, February 28, 2023
Location: Zoom
Time: 6:00 PM - 7:00 PM
---
#MondayMessage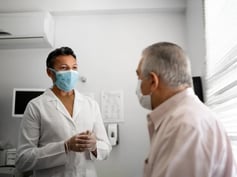 "Do what you can, where you are, with what you have."

Gustavo Friederichsen
Chief Executive Officer
Los Angeles County Medical Association
"If it matters to our LACMA members, it matters to me."