---
Join CMA for the 49th Legislative Advocacy Day | CMA will host its 49th annual Legislative Advocacy Day in Sacramento on Wednesday, April 19, 2023. Attendees will have the opportunity to meet with legislators on priority health care issues. Meetings with local legislators will be coordinated by LACMA staff. This unique event is free of charge to all CMA and LACMA physician members, residents and medical students. Plan to join your colleagues as they prepare to lobby their legislative leaders and serve as champions for the house of medicine! If you are interested in participating in this year's event, please click the button below to register.
---
Q1 Practice Makeover Is Now Open! | LACMA's Medical Practice Makeover Initiative is more than a slogan. It's a promise to small, independent medical practices that meet certain criteria, that help is on the way. In 2022, a total of 20 practices received $5,000 grants along with robust resources, PPE supplies and a practice assessment. The success of the program in its first year demonstrated the need to extend the Medical Practice Initiative into 2023.
For 2023, a total of $50,000 will be awarded to practices, with 3 winners announced each quarter - 2 new awardees and 1 returning awardee. New awardees will receive $5,000 and past winners who re-apply and win will receive $2,500. The deadline for Quarter 1 is March 3, 2023.
---
The 152nd Elections Are Around the Corner | We are holding our 152nd Annual Election this coming June. There are vacancies on the LACMA Board of Directors and the LACMA Delegation to the CMA House of Delegates. Active members of LACMA and CMA have the privilege of voting for their preferred candidates.
To learn more about the open positions, please click below.
The deadline to submit nominations is March 1, 2023.
If you have any questions, please contact Lisa Le at lisa@lacmanet.org.
---
PPE Supplies for Practices in Need | LACMA still has a supply of PPE if you are a practice in need of additional masks, gowns, and goggles. Please contact Sheila Hoyer at sheila@lacmanet.org to coordinate pick up from our offices in Downtown

Heal Your Career & Avoid Burnout at the Healthcare Burnout Symposium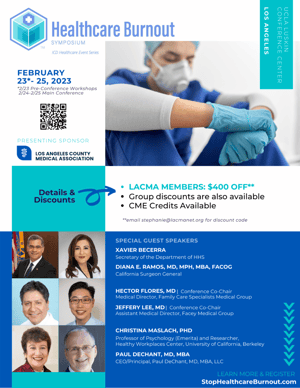 Two weeks to go until the historic burnout symposium! The speaker lineup includes HHS Secretary Xavier Becerra and new California Surgeon General Dr. Diana Ramos. There will be over 40 breakout session speakers covering topics essential to physician wellness. Our members have shared that burnout, along with reimbursement, staffing, and access to care are top issues and all will be covered over the two days. We have 140+ registrations but only 42 from the Los Angeles area. CMEs are offered and as a LACMA member, we've negotiated $400 off your registration.
In addition, any group of 3 or more that register together gets an additional 15% off the registration costs, so the savings are significant.
As part of the registration, you will also be able to have on-demand access to all sessions for up to six months – and earn CMEs for any sessions viewed online as well.
Dates: Thursday, February 23 - Saturday, February 25, 2023
Location: UCLA Luskin Conference Center
---
Medical Practice Valuation & Current Trends in Physician Practice Transactions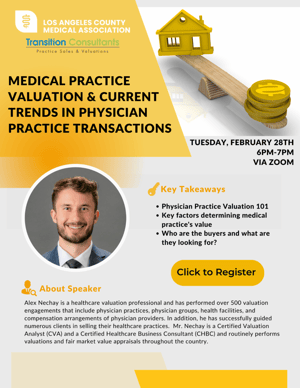 Join us in this informative webinar alongside one of our newest preferred partners, Transition Consultants. Webinar will concentrate on key factors determining medical practice's value and current trends in physician practice transactions.
Key Takeaways:
Physician Practice Valuation 101
Key factors determining medical practice's value
Who are the buyers and what are they looking for?
If you're looking into retiring soon and selling your practice, or are curious about the value of your practice, then you won't want to miss this!
Date: Tuesday, February 28, 2023
Location: Zoom
Time: 6:00 PM - 7:00 PM
---
#MondayMessage

Mental health is not a destination, but a process. It's about how you drive, not where you're going.

Gustavo Friederichsen
Chief Executive Officer
Los Angeles County Medical Association
"If it matters to our LACMA members, it matters to me."